American Studies Speakers' Series
SPEAKERS' SERIES 2020-21
Hosted by: Professors Robert MacDougall and Laurel Shire (Western University, History)
Title:          An Open Discussion on Histories of Racism, Policing, and Protest in the US (and Canada)
Date:          Thursday, June 18, 2020
Location:   Virutally via Zoom
Time:         12:00-1:00pm 
RSVP to:    history-inquiries@uwo.ca
History professors Robert MacDougall and Laurel Shire will host an open discussion about the history of racism, criminal justice, and protest movements in the United States, and how that history might help us understand the remarkable events currently unfolding in the U.S. (and in parallel protests in Canada and elsewhere). This session will combine an open discussion with a Q&A moderated by Profs. MacDougall and Shire. Questions for the Q&A may be emailed in advance to history-inquiries@uwo.ca.
This session is a response to the many requests for ideas and resources that we have been getting from former students in History 2135 (African American History) and His/AmSt 2310 (American Nightmare - offered again in Sept 2020!). One of those students is responsible for organizing this event (props to Mariana Gogliano, class of 2020!). As white people, this is work that we want to support without making any claims to our own authority or expertise. It is important to discuss it now, and so we support efforts to understand the past better so that we can more effectively challenge racist policing and systemic racism in the present. As historians of the United States, we do have some information that others may find useful. And we also want to heed the call of many Black activists who tell us that they are tired of being the folks who do all the work of explaining racism. After all, it is white people who have the power to challenge institutions and systems that discriminate. But we both feel unworthy of and humbled by our students' requests.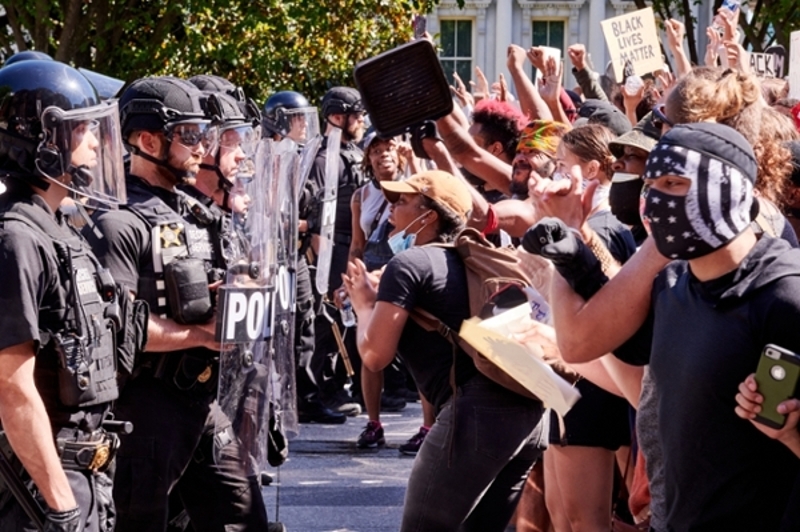 Photo by Geoff Livingston, via Flickr. Licensed under Creative Commons
Accessibility
Contact the History Department at history-inquiries@uwo.ca if you require information in an alternate format, or if any other arrangments can make this event accessible to you. For a campus accessibility map please visit: http://www.accessibility.uwo.ca/resources/maps/index.html.